The following short tutorial demonstrates basic usage of Biovista Vizit in a biomedical setting. The tutorial shows how can a biomedical researcher (and/or an MD) quickly get an overview of genes and diseases related to Rheumatoid Arthritis, a common auto-immune disease.
1) Go to https://www.biovista.com/vizit/. Click on the red Start Searching button.
2) From the drop-down menu, select Disease and then start typing Rheumatoid Arthritis. Add the Disease to the whiteboard by pressing enter on the name of the Disease.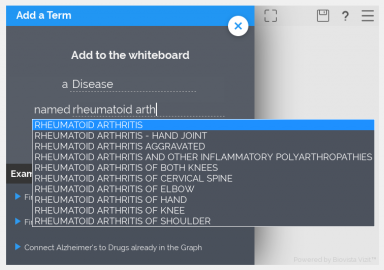 3) Click on the Rheumatoid Arthritis circular node and then select Explore > Genes to view Genes/Proteins co-cited with Rheumatoid Arthritis.
4) Click on the Gene NFKB1 and then select Explore > Diseases to view additional Diseases associated with NFKB1 in PubMed.
5) Click on the Rheumatoid Arthritis node and then select Connect > Diseases to view bibliographic links between Rheumatoid Arthritis and existing Diseases on the graph associated with NFKB1.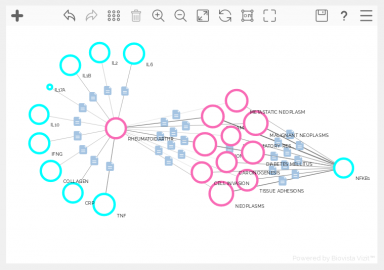 Click on the bibliography icon

connecting any two nodes to view the most recent supporting bibliography.
And here is the url of the resulting graph. It is live, so go ahead and create your own version of the graph by further exploring bibliographical connections of your interest! And don't forget to share your findings with your peers by email or on any social network!
https://www.biovista.com/vizit/#!bv_gid=d3bd6f0eb8c7efdfe6ae4d87180c2cfa
Vizit offers a comprehensive set of interactive tours and quick guides to help you make the most of it. Just hover over the ? icon on the menu or click on the big rectangular Quick Help! button above Vizit for additional help.
Hope you enjoyed this tutorial!
The Biovista Vizit Team