BVA-601 is a Histamine H1-receptor antagonist that also targets a receptor that has an established role in epilepsy.BVA-601 exerts additional molecular effects that may be particularly relevant to the chronic neural damage that is induced by repeated seizures and to its cognitive sequel.In particular, BVA-601 protects the neuronal mitochondria against aberrantly high levels of cytoplasmic Ca2+ in neurons and axons.Mitochondrial dysfunction has been identified as a potential cause of epileptic seizures and therapy-resistant forms of severe epilepsy and is a currently active research subject.
In addition to the mechanistic relevance to epilepsy, BVA-601 has exhibited an excellent safety profile with good bioavailability and blood-brain-barrier permeability, which make this compound a good candidate for development in epilepsy.
Background of the disease
Epilepsy is a common chronic neurological disorder that is characterized by recurrent unprovoked seizures.Approximately 60% of all epilepsies are idiopathic. Epilepsy/seizures may be caused by acquired brain pathologies, such as brain trauma, tumors and post-infection lesions, or by genetic factors. Currently the treatments for epilepsy are primarily symptomatic and require chronic administration to suppress seizure occurrence; however, approximately 30% of epileptic patients suffer from medically refractory disease that cannot be controlled by anti-epileptic drugs.
Market opportunity
Epilepsy, a medical condition with major impact on the quality of life, is affecting around 50 million people worldwide. The overall incidence of epilepsy (excluding febrile convulsions and single seizures) in developed societies has been found to be around 50 cases per 100,000 persons per year. The figures for developing countries are generally higher. The worldwide mean prevalence is estimated to be 8.93 per 1000 population and is the most common serious brain disorder in children. The risk of having a febrile seizure before the age of five, is about 5%. Febrile seizures account for a substantial proportion of seizures in children under five.
Adverse events are a common problem with current anti-epileptic treatments. Early onset adverse events may include drowsiness, headaches, migraines, motor coordination, dyspepsia and hypersensitivity reactions. Late-onset adverse events include cosmetic effects, alterations in body weight, in bone health (e.g., osteoporosis in adults and children, rickets in children), in reproductive health and sexual functioning, as well as thyroid, cerebellar and peripheral nerve dysfunctions (e.g. hyperthermia, ataxia, nystagmus). Most antiepileptic drugs have been associated with a statistically significant increase in suicidality. Teratogenicity is an important concern in the management of epilepsy during pregnancy. The anticonvulsant medications may be continued for long intervals, even lifelong, and can have major effects on the quality of a person's life.
Current anti-epileptic drugs may increase metabolism of corticosteroids, oral contraceptives, oral anticoagulants, cardiovascular agents, antibiotics, chemotherapeutic agents, psychotropic drugs and non-opiate analgesics, thereby reducing their efficacy.
Results to date
Preclinical studies of compound BVA-601 were performed in rodents using the kainic acid (KA) model of temporal lobe epilepsy, an established animal model in the discovery of antiepileptic drugs.
Male Wistar rats (10 animals per group) were injected with kainic acid (12 mg/kg i.p.). BVA-601 (100mg/kg) was given i.p. 60 minutes prior to the administration of kainic acid. The positive control was Diazepam (4mg/kg) given i.p. 30 minutes prior to the administration of kainic acid. A vehicle-treated group injected with kainic acid served as a negative control.
The occurrences of the following symptoms were noted over a 120 minute period after kainic acid injection: wet-shakes, rearings and rearings with forelimb clonus. The primary outcome measure was a binary measure of whether each rat displayed these symptoms following KA administration (0: no; 1: yes). In addition, the latencies to the first appearance of the symptoms were measured and the number of forelimb clonus was counted.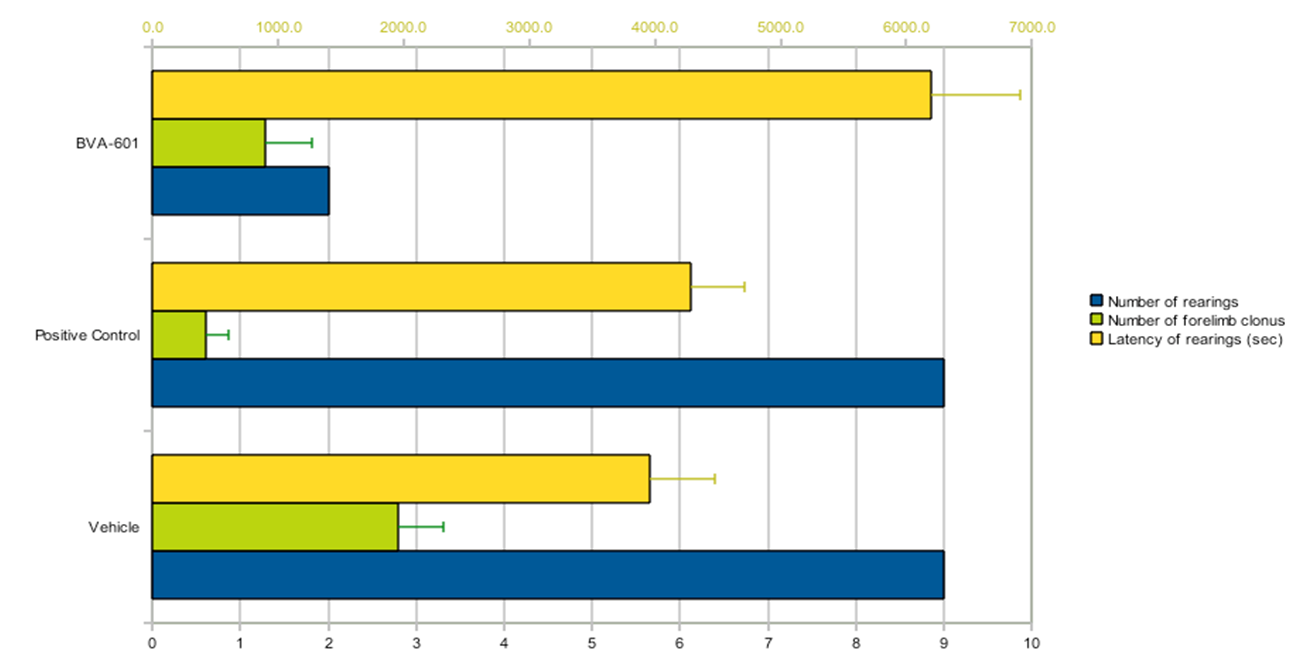 BVA-601 at 100mg/kg induced a statistically significant reduction of 78% in the number of animals showing rearings (p ≤ 0.05), while it significantly increased the latency of rearings by 57% (p ≤ 0.05). In these measurements the positive control did not reduce the number of rearings, while it induced a non-significant mean increase in their latency by 8%. This data is shown in Figure 1.
In addition, BVA-601 reduced the number of forelimb clonus observed in the treatment group by 54% and this result achieved marginal statistical significance (p = 0.0569). On the other hand, the positive control induced a significant reduction of 79% (p ≤ 0.01), while there was no statistically significant difference between the number of forelimb clonus in the BVA-601 and positive control groups (p = 0.27) (Figure 1). Finally, there were no pro-convulsant effects of the compound.
Conclusions
BVA-601 reduces neuronal excitability and at the same time protects mitochondria from degeneration, a process that is known to be involved in the development of the neuronal damage induced by repeated seizures.
In animal tests, BVA-601 induced a statistical significant reduction of clinical scores in the kainic acid model of temporal lobe epilepsy. In some of the measurements (namely the number and latency of rearings) it performed better that the positive control, diazepam, which is an established and very effective drug for the treatment of epilepsy, yet its chronic use is troubled by important adverse events. Diazepam induced a bigger reduction in the number of forelimb clonus, yet BVA-601 still exerted a sizable effect.
Thus, BVA-601 shows significant anti-epileptic activity, while at the same time acts as a neuroprotectant. In addition and unlike most anti-convulsant medications to date, BVA-601 has a very good adverse event profile in humans.
Intellectual property
The use of BVA-601 in the new indication is protected by an international patent application, currently in the national phase. The patent application also covers administration in several different dose ranges, routes of administration, as well as a number of drug combinations.
Licensing opportunity
Our business model is based on licensing and joint-venture agreements for the development of repurposed drugs. If you are interested in exploring licensing or joint development opportunities please contact us at bd{at}biovista.com