Maximize the value of scientific publications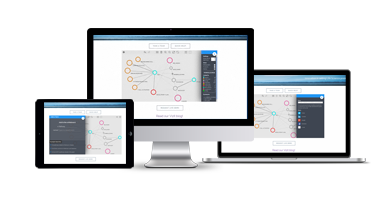 Change that leads to growth
The landscape of scientific publishing is changing rapidly: New open access and pre-print models have come to rise while publishers are being challenged by the commoditization of content, by user needs for rapid publication and for richer, live and interactive content.
This evolving landscape has growth opportunities: Publishers can come closer to the researcher with new tools and services to complement richer content, support discovery and create value for the community.
It's about creating new services and combining them with rich content.
Valuable to scientists. Sustainable for publishers.
Biovista Vizit
Add rich, dynamic content to your scientific articles
Figures are an integral part of any research article, however, they are usually read-only, non-interactive.
Biovista Vizit graphs are interactive and rich in content, and can be part of an article alongside figures inviting researchers to explore and interpret the scientific findings from their own perspective, start conversations with their peers and ultimately carry out their research better.
Biovista Vizit graphs containing the main biomedical entities of a paper, can be modified at will, shared and "published" to a pre-print service to acquire a DOI, like this example.
More touchpoints on the researcher's journey
How can scientific literature be put to work better for researchers?
Typically researchers seek access to scientific articles at the beginning and end of a project and while they seek specific insights during their lab/research work.
But what about other potential touchpoints?
When a researcher is looking to generate and test hypotheses, or when they wish to collaborate with their peers?
When they are waiting for an experiment to run?
Or when they need to purchase a reagent for their work?
With Biovista Vizit researchers have an Augmented Intelligence tool they can use throughout their R&D journey. Both as consumers and as generators of content they can:
Make their own, or find and share Vizit graphs with the community, telling their own story and collaborating with peers in real time and across content.
Generate and test novel scientific hypotheses based on non-obvious links between genes, pathways, diseases, drugs and more.
Find products (from associated vendors) relevant to whatever they are working on.
Insights for Publishers
Through Vizit Analytics
Is your content and toolbox useful? What percentage of your users are "engaged"?
Which organization/university is most actively using your service?
How long are users engaged?
Where is research interest most focused on? How is this interest changing over time and over different regions?
With the Vizit Dashboard you can better understand the use of your tools and content, follow research interests and trends in real time, and optimize your service to better reflect the needs of your user community.
Biovista is a pioneer in the field of literature mining technologies. Our tools have been used with pharma companies, payor organizations and regulators around the world to predict new indications for existing drugs and identify non-obvious adverse drug reactions.
1: Gronich N, Deftereos SN, Lavi I, Persidis AS, Abernethy DR, Rennert G. Hypothyroidism Is a Risk Factor for New-Onset Diabetes: A Cohort Study. Diabetes Care. 2015 Sep;38(9):1657-64. PubMed PMID: 26070591.
2: Andronis C, Sharma A, Virvilis V, Deftereos S, Persidis A. Literature mining, ontologies and information visualization for drug repurposing. Brief Bioinform. 2011 Jul;12(4):357-68. Review. PubMed PMID: 21712342.
3: Deftereos SN, Andronis C, Friedla EJ, Persidis A, Persidis A. Drug repurposing and adverse event prediction using high-throughput literature analysis. Wiley Interdiscip Rev Syst Biol Med. 2011 May-Jun;3(3):323-34. Review. PubMed PMID: 21416632.