Make the case for your prescription drugs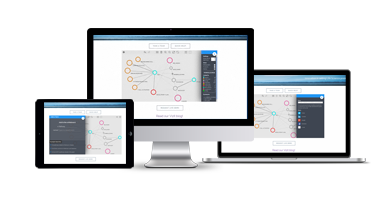 It's about the best use of your time.
And doctors' time too.
It's hard to keep up with the latest research and clinical data all the time. So how do you make sure that you can respond to customer requests, or proactively anticipate challenges about your prescription drugs in a timely and efficient manner?
PubMed and Google are well known tools. But both of them return lists of articles or links, not always relevant to the original search, making it difficult to get an overview of a problem space in a limited amount of time.
How can one quickly understand how a drug mechanism of action may work in an off label use case, find rare reported side effects or identify unanticipated drug interactions?
Vizit
It's all about providing the best answers for your medical questions.
Vizit is a unique visual search engine for PubMed running on any modern browser. It also runs on tablets.
Vizit allows you to explore how medical conditions, drugs and their side effects, protein targets and relevant signaling pathways, are linked to each other.
When you see interesting links you can rapidly access the supporting scientific evidence from PubMed to understand exactly the underlying biology. Quickly, comprehensively, and in a fun sort of way.
Live Vizit graphs can be bookmarked for later use, shared via email or via any social network, privately or publicly.
With Vizit you can:
Identify topics of interest for discussion with Scientific Leaders,
Obtain up to date scientific material for use in scientific meetings,
Design clinical trials (substantiate rationale, predict AEs),
Assist other functions with the preparation of up to date scientific material,
Provide training in specific subjects,
Keep up with the latest research and clinical data, and much more!
Nurture your company's brand identity.
And stand out from the competition.
Use Vizit to "invite" clients to your website.
Vizit can be easily incorporated into your company's website providing solutions and knowledge to both your internal and external clients.
Vizit makes it easy for doctors to access scientific data from PubMed and the same scientific evidence that you use to make your case. And search for more answers themselves.
Vizit lets you start, facilitate and maintain useful dialogues on issues that matter to your clients and their patients. It's the surest way to keep your contacts engaged, build brand loyalty and nurture it over time.
With Vizit you can easily create visually appealing presentations. And because Vizit graphs are interactive, your audience can explore the information themselves, add new data and share their findings, creating live communities of Medical professionals brought together by a common interest in a specific disease or one of your prescription drugs.
Use Vizit to uncover facts about your own brands and competing medicines targeting a disease of interest and plan your promotion strategy accordingly.
Biovista is a pioneer in the field of literature mining technologies. Our tools have been used with pharma companies, payor organizations and regulators around the world to predict new indications for existing drugs and identify non-obvious adverse drug reactions. View selected partnerships.
View relevant publications from Biovista
1: Gronich N, Deftereos SN, Lavi I, Persidis AS, Abernethy DR, Rennert G. Hypothyroidism Is a Risk Factor for New-Onset Diabetes: A Cohort Study. Diabetes Care. 2015 Sep;38(9):1657-64. PubMed PMID: 26070591.
2: Andronis C, Sharma A, Virvilis V, Deftereos S, Persidis A. Literature mining, ontologies and information visualization for drug repurposing. Brief Bioinform. 2011 Jul;12(4):357-68. Review. PubMed PMID: 21712342.
3: Deftereos SN, Andronis C, Friedla EJ, Persidis A, Persidis A. Drug repurposing and adverse event prediction using high-throughput literature analysis. Wiley Interdiscip Rev Syst Biol Med. 2011 May-Jun;3(3):323-34. Review. PubMed PMID: 21416632.